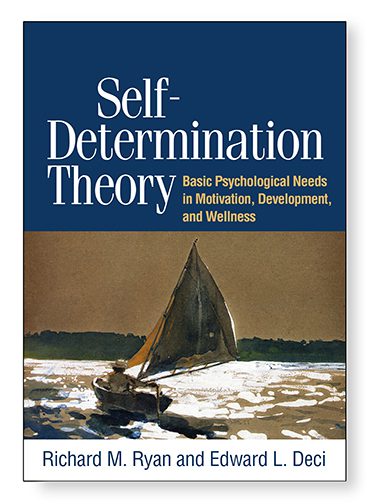 This long-awaited book by Richard M. Ryan and Edward L. Deci is now available around the globe!  
North and South America
Use discount code:  AFSDT
Click here to order
* discount code will auto-generate when using link above
UK & Europe
Use discount code:  GUIL3
Click here to order
Australia and New Zealand
Use discount code:  SDT20.
Click here to order
Asia Pacific
Use discount code:  GUIL3 The book distributor Taylor & Francis-Asia Pacific doesn't have a purchase website, but you can order your book via email at: 
[email protected]
and mention discount GUIL3
This book is also available on Amazon
.................................................... Self-determination theory (SDT) provides a framework for understanding the factors that promote motivation and healthy psychological and behavioral functioning. In this authoritative work, the codevelopers of the theory comprehensively examine SDT's conceptual underpinnings (including its six mini-theories), empirical evidence base, and practical applications across the lifespan. The volume synthesizes a vast body of research on how supporting—or thwarting—people's basic needs for competence, relatedness, and autonomy affects their development and well-being. Chapters cover implications for practice and policy in education, health care, psychotherapy, sport, and the workplace.